Public Spaces
Public spaces are our streets and parks, and the places where you bump into a friend or neighbour on your way to the shops. They are our river front walks or our bus and train stations; our campuses and our community centres. And their design and maintenance have a profound impact on the quality of our lives. Yet they are often spaces into which the public have least input, and in many cases are designed more with an eye to car accessibility than pedestrian (or cyclist) comfort and pleasure.
By working with communities to build successful public spaces, we can build healthy, sustainable communities and vibrant, successful towns and cities.
The key to successful public spaces is to work in partnership with both public and private partners as well as a range of stakeholders who actually use the space on a regular basis. The teenagers who hang out in front of the surf shop are as important as the members of Active Age who walk into town every day to use the library or attend yoga classes.
We have all seen examples of great public spaces. Whether it's the squares in which the locals come to 'promenade' in small towns across Spain, or the farmers market in Meeting House Square in Dublin, they are the spaces that 'work'.
Great public spaces can be as simple as a couple of (well maintained!) benches that are located at just the right place for people to rest at while taking a coffee break outside, or while walking into into town. Equally, a simple pocket park for children next to the library can create a focus for great public space. What is important is that they build a sense of ownership by the community, while also creating a town or city that visitors want to spend time and return and not simply pass through.
We all recognise public spaces in our housing estates that are without a seating area, or that are crying out for a place for people to come to come together to share a garden space or a small place for the children to play safely and creatively.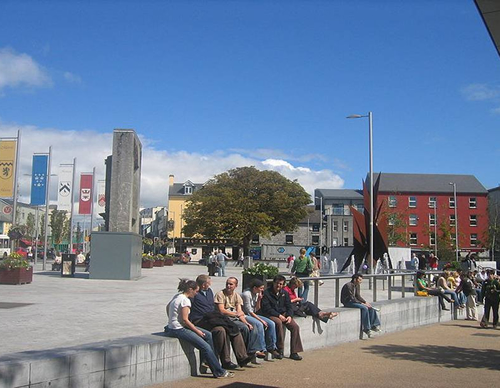 Eyre Square in Galway is a great example of a public space that works. It is rare to walk through the Square without sharing the space with many other people.